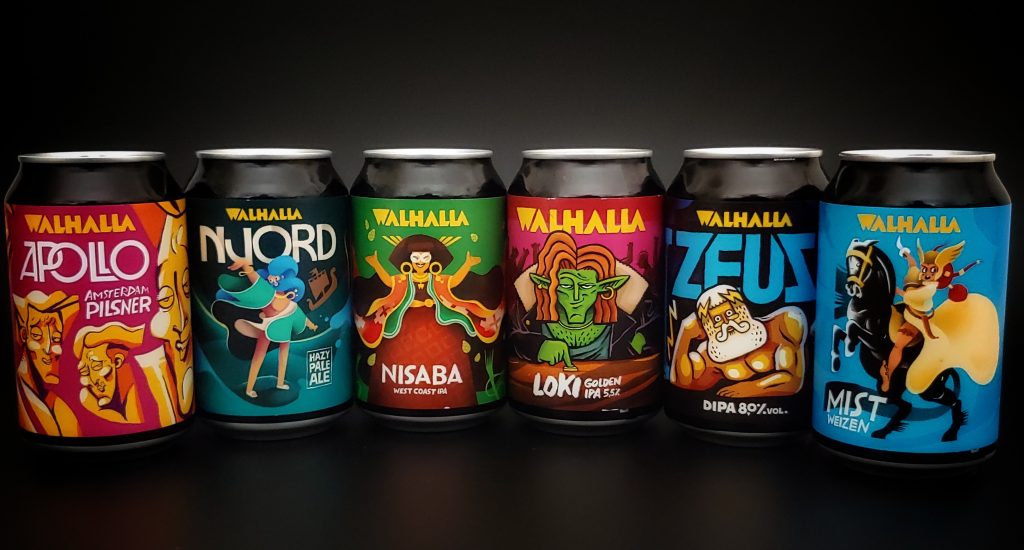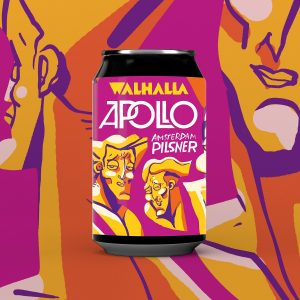 APOLLO AMSTERDAM PILSNER 5%
A light unfiltered pilsner brewed with one aim: elegance through simplicty. A simple malt bill, German noble hops and extended lagering make for a crisp, refreshing lager.
APOLLO is our golden boy.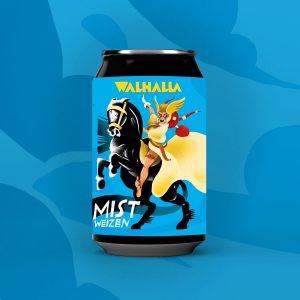 MIST WEIZEN 5,5%
MIST is a traditional German Weizen brewed with large amounts of wheat malt and fermented with a Bavarian Ale yeast. Hazy in appearence with typical aromas of bananas and a slightly sweet finish.
MIST is one of the famous Valkyries, the battle angels that carry the fallen up to Walhalla.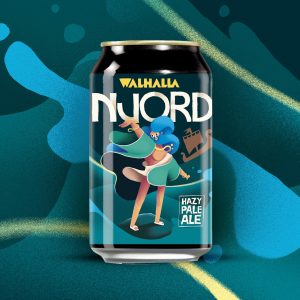 NJORD HAZY PALE ALE 5%
A thirst quenching pale ale with a soft body from malted oats and a fresh hop aroma from the Ekuanot and Chinook varieties.
NJORD is the Norse god of the sea and the guardian of sailors.
Color: 8 EBC / Bitterness: 25 IBU
LOKI GOLDEN IPA 5,5%
Man or woman watch out for Loki: this green god seduces you with his smooth talk & cheeky smile. We know why they call him a trickster...
The beer Loki drinks when he's hanging out at the ever crowded Walhalla bar. A refreshing IPA brewed with pale malts and modern hops. Dryhopped with Mosaic for that grassy citrus aroma!
Color: 8 EBC / Bitterness: 34 IBU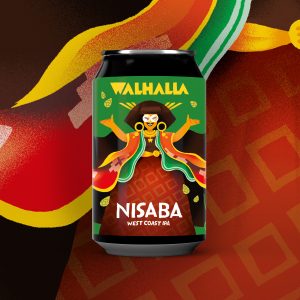 NISABA West Coast IPA 6,5%
IPA goes back to her roots with NISABA: caramel backbone, piney/citrusy hop aromas from the classic Columbus, Centennial and Chinook with a dry bitter finish.
NISABA is the Babylonian goddess of writing, wisdom and grain.
ZEUS DOUBLE IPA 8,0%
The god of thunder, boss of the Olympus.
Extra strong IPA featuring intense aroma's, sweet body and bitter finish. Dryhopped with Citra & Simcoe resulting in hints of mango and candy.
OSIRIS FARMHOUSE ALE 7,0%
After a day of hard work, nothing makes Osiris feel more refreshed than a cold ale. And whether it is an office or a field you've been working on: this beer is just what you've been looking for.
An unfiltered farmhouse ale brewed with local barley, spelt and oats. Lavishly hopped with Cascade to give you those fruity aromas of lime and peach.
Color: 17 EBC / Bitterness: 38 IBU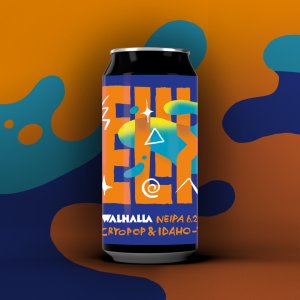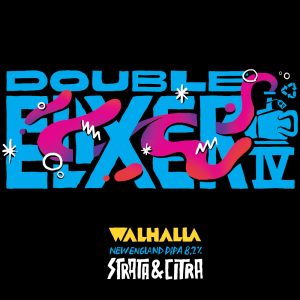 ELIXER & DOUBLE ELIXER NE-IPA SERIES
Congratulations Brave Warrior! After many heroic adventures and slaying several daemons, you have completed your quest of finding the fabled Elixer! The old gods commissioned us to brew this magic potion with a different combination of dryhops each time. Drink Fresh!
Check out previous editions in the Library of Elixers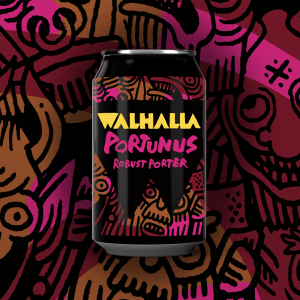 PORTUNUS Robust Porter 6,3%
A really friendly dark ale with a nice layered flavor due to the use of English Brown, Crystal and Chocolate malts.
Portunus is the Roman god of doors, openings and ports.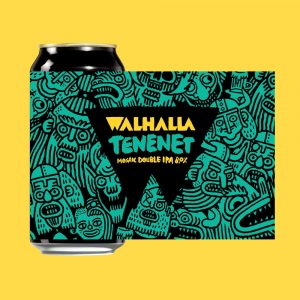 TENENET Mosaic DIPA 8%
We love Mosaic! This aromatic hop is a workhorse in our brewery, we dialed it up for this DIPA by adding three times as much compared to our popular Loki IPA. Expect big dank tropical hop aromas and a punchy finish.
Tenenet is the Egyptian goddess of beer and protector of brewers.
DAEMONS LIMITED EDITION SERIES
Say your prayers and hide your children: THE DAEMONS ARE HERE! Outside the safe walls of Walhalla there's a shadow world full of vile creatures and ancient daemons: the enemies of gods and brave warriors.
Daemon #15 is a dessert in a can: a creamy thick stout is the base, flavored with toasted coconut, chocolate, Bourbon vanilla and lactose.
PAZUZU is a feared Mesopotamian demon, with claws for hand and feet, a ghastly head and a scorpion's tail.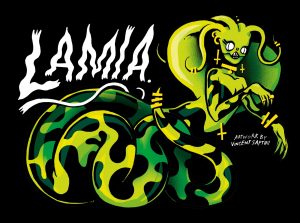 Deamon #16 is a Black Double IPA with Columbus and Cascade hops for a dank piney aroma, paired with dark malts for hints of chocolate. She slithers down your throat...
LAMIA was a beautiful woman who was transformed into a demonic serpent lady by Zeus' wife after one of his many adventures.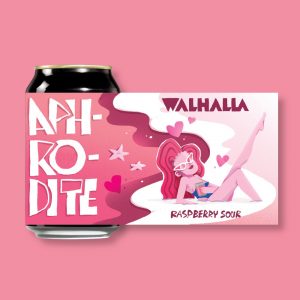 APHRODITE RASPBERRY SOUR 5%
APHRODITE is the Greek goddess of love, reflected by the deep pink hue of the grotesque amount of raspberries we added to this seductive kettle sour. We think you'll fall head over heels for the delicious fruit character and eminent drinkability of this lovely tart beer.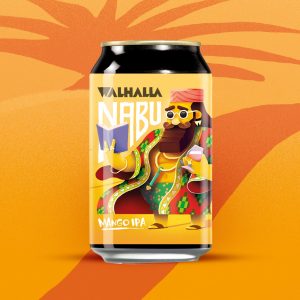 NABU MANGO IPA 6%
Named after the Sumerian god of scripture, wisdom and plentiful harvests. He can look into the future and we hope he sees better times to come.
NABU is a tropical IPA with copious amounts of juicy Mango to complement the El Dorado and Citra hops that make this a perfect beer for the warmer days approaching. Sip it in your backyard or on your balcony in the Spring sunshine. Seasonal: Spring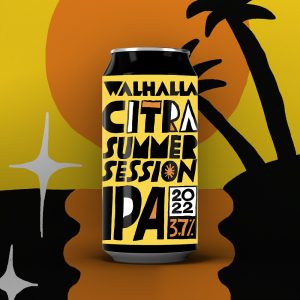 CITRA SUMMER SESSION IPA 3,7%
Everybody loves Citra! That's why we loaded our Summer Special release with this popular hop that features notes of citrus fruit and mango. With a malt bill featuring barley, wheat and oats the body of this beer is creamy yet thirst quenching for those long days in the sun. Seasonal: Summer
HEIMDALL IMPERIAL RYE BOCK 8,5%
As Walhalla's bouncer Heimdall is the boldest and bravest of all. So let him guard you through the dark and grimy nights.
Extra strong and dark bock beer, brewed with plenty of rye and chocolate malt. Full flavor of toffee, spices, chocolate and dried fruits. Seasonal: Autumn.
Color: 60 EBC / Bitterness: 38 IBU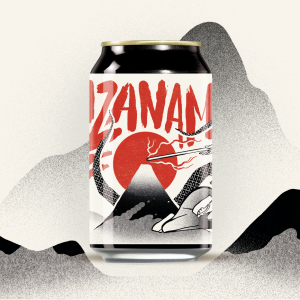 IZANAMI SORACHI ACE STOUT 7,8%
Solid Stout brewed with English Crystal and Roast malts. The Japanese hop Sorachi Ace gives a unique aroma of coconut and lemongrass.
The Japanese goddess Izanami adorns this special label. Seasonal: Winter.