Getting it together: the story of building our brewhouse
by Liam
One advantage of Aart's past involvement in the Dutch beer scene was the many sources of information and guidance along his journey of establishing the Walhalla Brewery & Taproom. The renovation of a former tire shop and garage into a fully-fledged brewpub is no small feat and its  taken some serious drive and passion of everyone involved to arrive at that first mash in.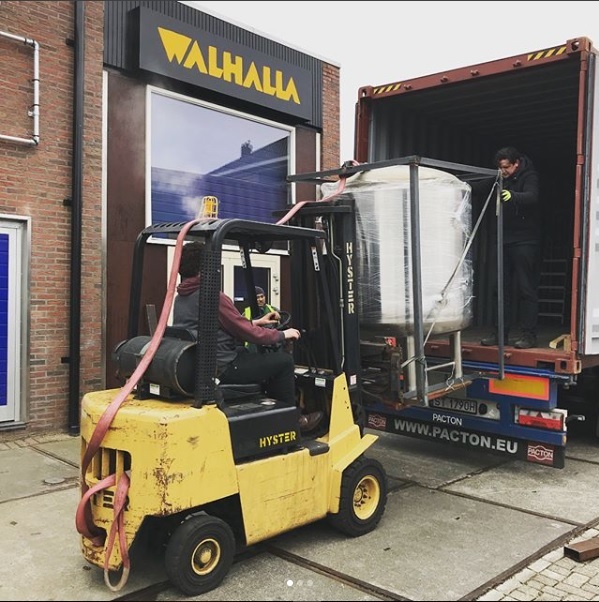 Day by day we received a steady stream of trucks and vans at the roller door, each coming with another piece of the puzzle. Electricians, plumbers, concrete farmers and dodgy salesman all dirtied the door step and we were more than grateful for almost all of them. Brouwerij Support arrived and did two days of non-stop welding and wiring to get our tanks hooked up to the glycol chiller. PBC Brewery Installations, our brewhouse supplier from Manchester, had two days to get the hot liquor tank, mash tun and boiling kettle up and running, with a third day set aside for a test brew.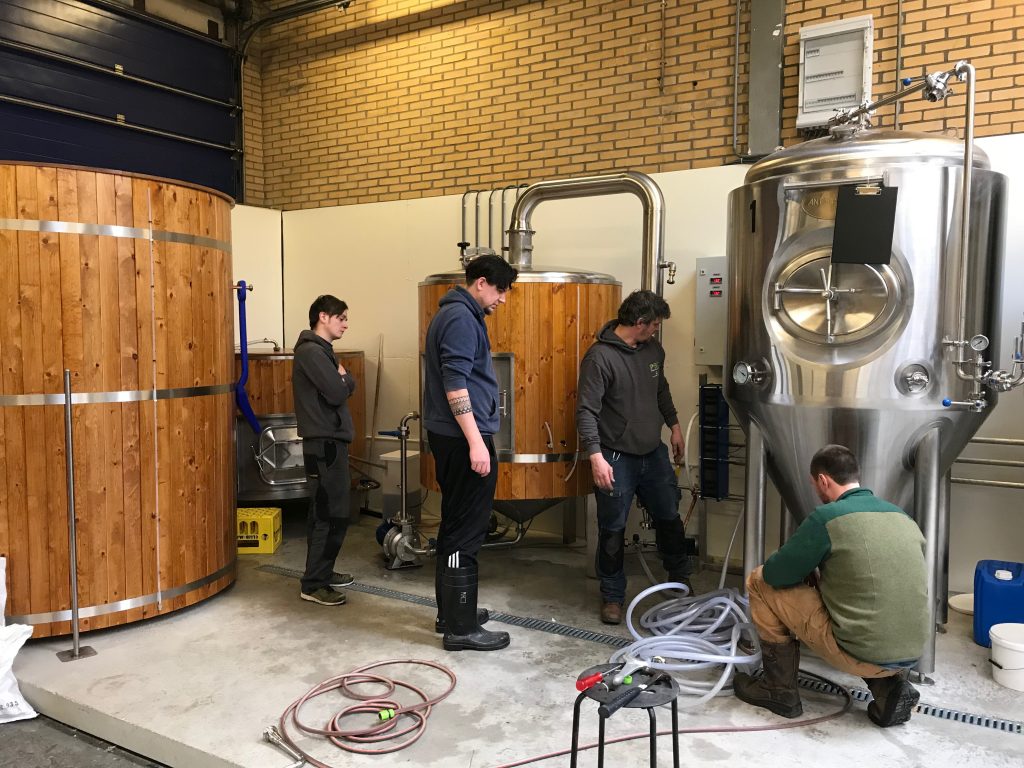 Aart and myself were stoked to be mashing in, running off and knocking out. We do nearly all brewing operations by hand here, bag by bag and by vigorous mixing. The brew went well and we hit the boil without power outages (a fear we had harbored for a while). The hops and hot break from the kettle left us ankle-deep in water. We find out the next day that our drains are completely backed up by industrial sand, a sign of old industry that used to exist in Amsterdam Noord.
It's a balancing act to get production underway whilst still adding the bits and pieces that are needed to be functional. However, I have no doubt we'll continuously add or take away from what we have, in the hope that it'll help us to produce something of high quality that gives a bit of momentary satisfaction and some enjoyment to the people who drink it.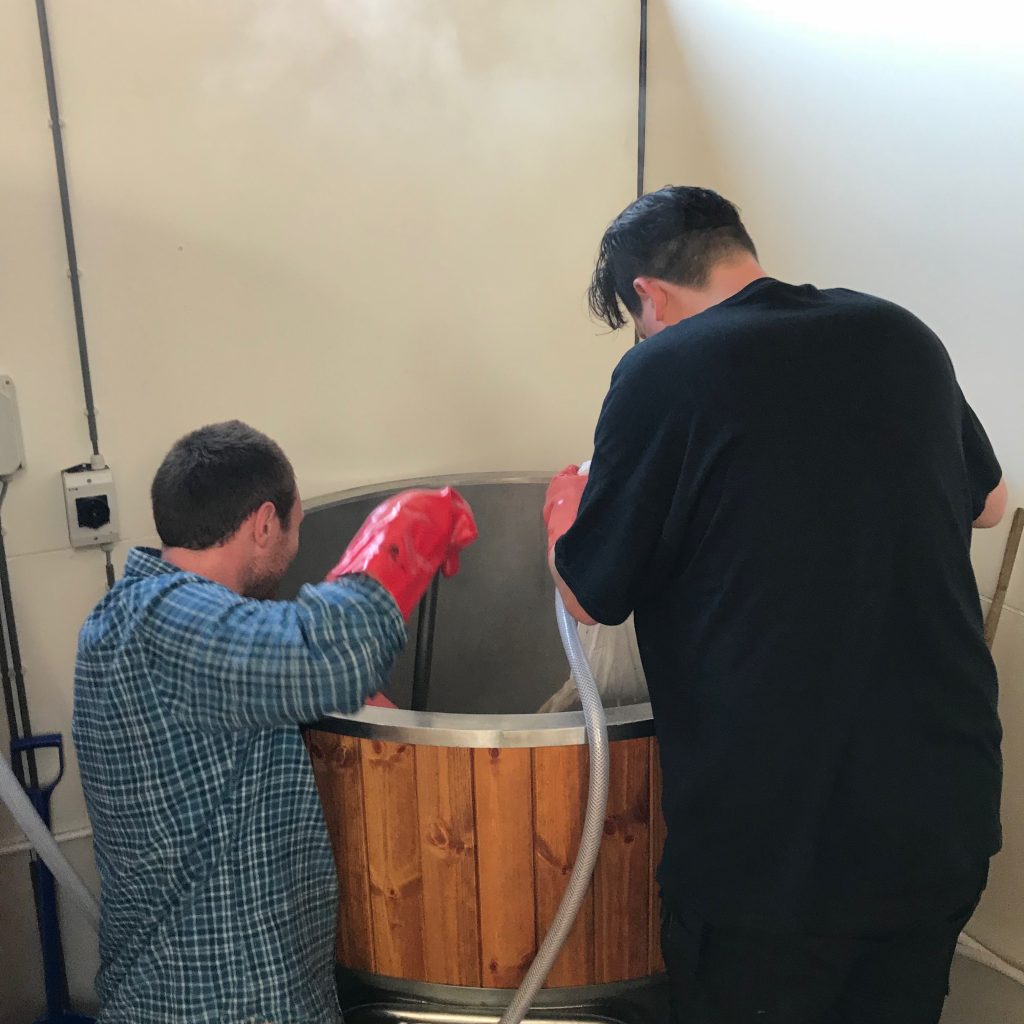 Our approach to the beers we're brewing in Walhalla's new production space seems to be subconsciously seasonal. We're only filling kegs at the moment, so we're somewhat driven by what will pour well on tap, not so much what will fit into a bag with a mixture of other shelf beers. I'm happy with that situation myself as its giving us a little bit of breathing space to dial in the process. We're all looking forward to getting the beer we make at the Spijkerkade into various containers in the near future, be it bottle, can or keg.
Right now I can definitely see this fine tuning process isn't going to come overnight. Our efficiency from the mash tun has been a little bit up and down. Our utilization of kettle hops so far has been good . I'm still not 100% sure of what our oxygen pickup is in packaged product and that makes me slightly nervous, however our first Pale Ale has been in the keg for going on a month now and doesn't show signs of oxidation. Judging from some sensory tastings we've done on the beers so far I think we're a little out of whack with our water profile. All of these things and more just add to the daily improvements that we hope to make.
So to sum up: We've come through the commissioning stage intact, my hat goes off to Aart and everyone else that has been here from day one. All level heads despite the heavy work load, we all still sit down for beers on Thursdays and shoot the shit. We're all as excited as ever to take what we're doing to the highest level that we can. There's been great support from the beer community around us and that's something that we never take for granted. We've got a great team of people and our location couldn't be any better: Oedipus is just down the road and there are new places opening every month. There are two breweries in our little neighborhood now, so exciting times lay ahead!
Anyway, keep enjoying the beers and continue to let us know what you think of them. Hopefully see you in the taproom some evening soon!
Cheers,
Liam