Aart (L) & Paul (R) at Beers & Barrels Festival '17
– English below –
We trappen het jaar af met een speciale aankondiging:
Vanaf vandaag is Walhalla teamlid Paul Troost mede-aandeelhouder naast zijn rol als full-time medewerker. Zijn aandeel in het bedrijf betreft 10%, daarmee blijft Aart van Bergen grootaandeelhouder van de andere 90% en directeur. Paul: "Ik ben optimistisch over de toekomst van de brouwerij, wat ik vertolkt zie in onze gezamenlijke ambitie om een waar Bierwalhalla te scheppen. Het is niet alleen een fantastische plek om te werken, een gevoel dat nu wordt vertaald door concreet mede-eigendom." Aart voegt daaraan toe: "Zonder externe aandeelhouders houden wij de regie over alle zakelijke besluiten volledig in handen."
Walhalla werd geregistreerd bij de Kamer van Koophandel in 2015 als eenmanszaak door Aart, die verantwoordelijk was voor alle aspecten van het bedrijf. Paul kwam er in 2016 bij als eerste werknemer en lid van Team Walhalla. Het bedrijf werd een B.V. na een succesvolle crowdfunding campagne in 2017, een verhuizing naar de Spijkerkade en de opening van een brouwerij en proeflokaal het jaar daarop. Het team breidde zich ook uit met brouwer Liam en barmanager Ilse.
Bij Walhalla hechten we aan kwaliteit, onafhankelijkheid en transparantie over hoe we ons bier maken en de brouwerij besturen. We begonnen in 2016 als huurbrouwers, waarbij we capaciteit van andere brouwerijen gebruikten om ons bier te brouwen. In april 2018 begonnen we bier te brouwen op onze huidige locatie, waarmee alle bieren op fust zelf geproduceerd zijn. Afgelopen november hebben we voor het eerst bier op blik afgevuld in onze brouwerij met een mobiele blikinstallatie, wat we in het komende jaar zullen voortzetten en uitbreiden. In de tussentijd worden de bieren op fles nog extern gebrouwen.
We hebben zin in het aankomende jaar in dit nieuwe samenwerkingsverband. We hebben in 2019 weer mooie bieren gepland, dus hou onze website/FB/insta in de gaten en wees welkom in ons hemelse proeflokaal voor de nieuwste brouwsels voor de dorstige goden!
---
We start the new year by announcing a slight change in our ownership structure:
As of today, Walhalla team member Paul Troost is a minority shareholder, in addition to remaining a full-time employee. His stake in the company represents 10%, leaving Aart van Bergen in his position as CEO while owning the other 90% of the shares. Paul: "I feel optimistic about the future of the brewery, which is reflected in our continuing commitment to making Walhalla a true heaven for beer lovers. It's a great place to work, now boosted by a sense of true ownership." Aart adds:  "With no external shareholders, we are fully in control of all business decisions."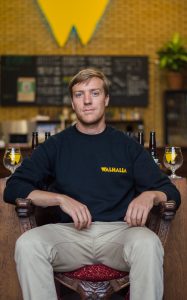 Walhalla was registered at the Chamber of Commerce in 2015 under the sole proprietorship of founder Aart van Bergen, who was responsible for all aspects of the company. He was joined by Paul at the end of 2016 as the first employee and member of team Walhalla. After a successful crowdfunding campaign in 2017, relocation to the Spijkerkade and establishment of a brewery and taproom one year later, the company became a private limited liability company under the name Walhalla Craft Beer B.V. The team also grew with brewer Liam and bar manager Ilse.
Here at Walhalla we value quality, independence and transparency in how we produce our beer and run our brewery. In 2016 we started out as a contract brewers, producing our recipes at other breweries in the Netherlands. In April 2018 our own brewery became operational, since then all our kegged beers have been produced in-house. In November of last year we started canning beers in our brewery with the help of a mobile canning line. In the coming year we will continue releasing more beers on can. In the meantime, the bottled beers are still brewed externally.
We're excited for the coming year with this new partnership. Keep an eye out for our upcoming releases and stop by our heavenly taproom for the freshest offerings to the thirsty gods!